Wedding Mariachis in NJ, Wedding Musicians & Live Band Entertainment in New Jersey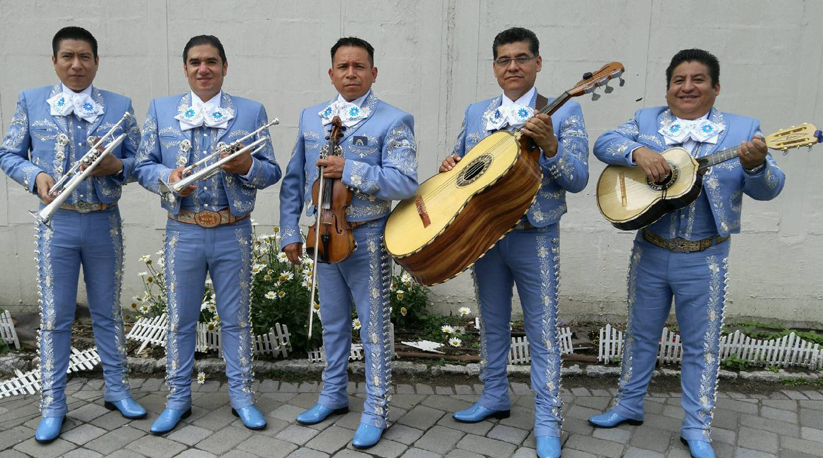 Wedding Live Band, Mariachi Musicians in New Jersey (NJ)
Welcome to our site!

Make your weddings, birthday parties, and special celebrations in New Jersey even more memorable with professional musicians and live music/band entertainment from mariachis!

Mariachi Nuevo Mexico, a mariachis group made of professional musicians in NJ, can liven up any social event in New Jersey with their varied repertoire of live music entertainment. As experienced mariachis/musicians performing in many events, weddings, and gatherings in New Jersey, the band can play a wonderful mix of Spanish and English songs. They are professional mariachis/musicians in NJ who can also accommodate special requested songs especially during wedding receptions, wedding anniversaries, and private parties.

Whether it's a contemporary song or classic music, the musicians of Mariachi Nuevo Mexico guarantees a perfect live entertainment performance for your New Jersey wedding, birthdays, anniversary, or other special occasions. You can always expect a magical and fabulous entertainment from talented musicians like the Mariachi Nuevo Mexico mariachis!

Create a Truly Memorable Party in New Jersey with Live Band Entertainment from Mariachis!

Make your NJ parties and events even more special by booking professional musicians/mariachis for your live music/live band entertainment. Mariachi Nuevo Mexico can bring that extraordinary vibe in your wedding, birthday, or private party in New Jersey. The band, formed in 2002 and headed by Rene Perez Diaz, also performs their wonderful mariachis music in New York and Pennsylvania for different events like:
Weddings in NJ, PA, and NY
Banquets
Festivals
Grand Openings
Restaurants in New Jersey, NYC, PA
Anniversaries
Corporate Events
Bat Mitzvah
Sweet Sixteen
Engagement Party
Christening
And many other special occasions in NJ and NY where live band/live music entertainment would surely brighten up the atmosphere!
Whenever you need to impress your guests in New Jersey, Pennsylvania, or New York, just book the top mariachis in the area--Mariachi Nuevo Mexico! The band is composed of professional musicians that can perform a varied line up of music to sit different musical tastes of your guests. Book the best mariachis/mariachi musicians today! The band will gladly assist you in creating the best live music entertainment for your special parties in NJ, NYC, and PA!

Mariachi Nuevo Mexico is the second generation of professional musicians/mariachis in NJ who came from a first generation that was established in Mexico. As a truly talented and experienced band, the group has played many weddings, corporate events, community gatherings, and private parties in New Jersey, NYC, and PA. Their entertainment package is composed of a 5-12-piece ensemble of musicians able to bring the true splendor of mariachi music to all their guests and performances in NJ, NYC, and PA. The band members are the best in what they do and are very professional with their clients and performance. They even wear traditional Mariachi suits and Sombreros! (Mexican Hats)

BOOK the Mariachi Nuevo Mexico TODAY for wedding entertainment, events, and parties in NJ, NYC, and PA! The band can accommodate to your budget and give you the best musicians to meet your requirements with high quality performance.
201 993 8373. Tel./fax. (201) 453 3669